IN THE MIDDLE OF THE STORM
Charity fundraising, art in exchange for a donation to the Lviv Territorial Defense Forces of the Armed Forces of Ukraine, which is currently fighting at the frontline.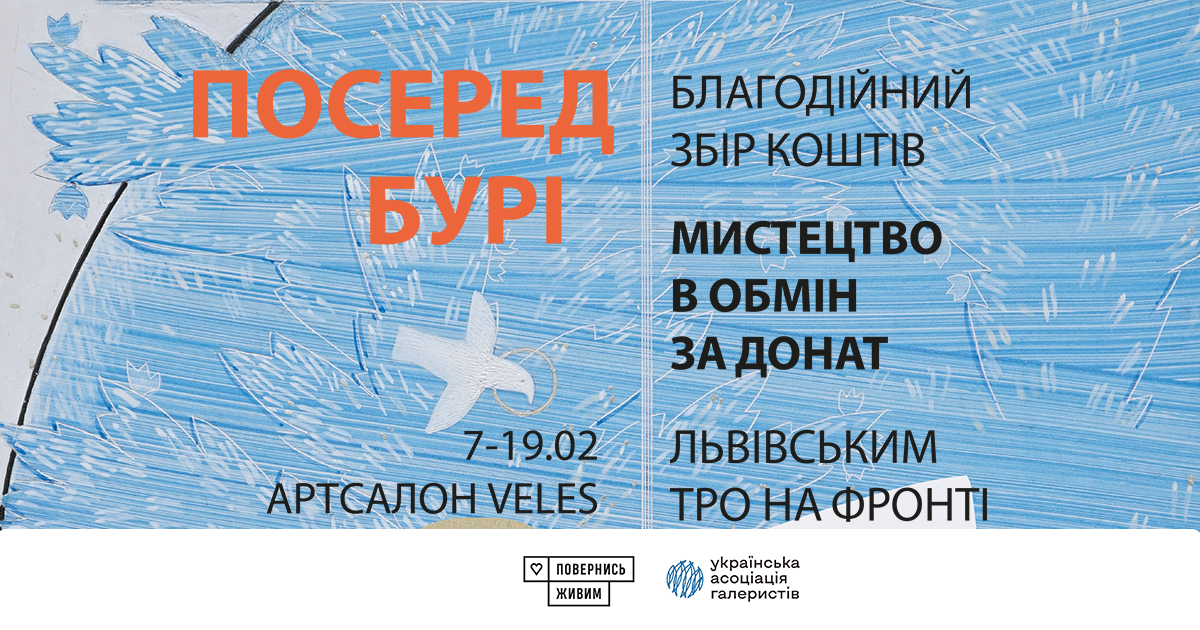 None of us chose this war. Even in a dream, we couldn't foresee the reality in which we have been living for almost a year…
Two Lviv brigades of Territorial Defense Forces keep the russians at the borders of the Donetsk steppes, and Lviv – from the arrival of the "russian peace" here. Those brave men and women who are "just doing their job" next to the Armed Forces, now need our help.
The Ukrainian Gallerists Association, together with the "Come Back Alive" charity fund, is organizing an art event to raise funds. You can see the exhibition and make a donation in exchange for art on February 7-19 at the Veles Gallery in Lviv.
You can also view this catalog and contribute by calling us. The indicated donations for artworks are fixed. But the amount of the charitable contribution is not limited to that specified in the catalog and may be more extensive. To reserve a lot you have to send the donation directly to the Fund's account.  The association, if necessary, provides a certificate of authenticity for each artwork.
We would like to tell you our sincere appreciation – with your contribution, you bring our victory closer!
Location: Artsalon Veles, Lviv, str. Fredra, 4a
Dates: February 7-19, 2023
​